Columbia School of Social Work Building
Status: Relocated
Columbia has decided to build a new home for its School of Social Work on some vacant lots on the block bounded by Broadway, Riverside Drive, 113th St., and 114th St. The structure will be the first building in the school's history designed expressly for professional social work education and is scheduled for completion in September 2002. Since its inception in 1898, the school has had five locations, including the Carnegie Mansion, located on Fifth Avenue at 91st St.
On the plus side, Columbia has selected the distinguished traditionalist firm of Cooper, Robertson and Partners, which colaborated with Robert A.M. Stern on the famous master-planned town of Seaside, Florida. There is no web site for this firm, which also designed the new Stuyvesant High School at Battery Park City and the urban design plan for the lower Manhattan BID.
Update 4/29/00: A meeting with community members was recently held at Columbia VP Emily Lloyd's office. It seems that the principal bone of contention in this project is the fear that it will block the light and air of adjacent co-ops. The project budget is apparently not large for a project of this size. The entrance will be on 113th St.
Update 6/18/00: Columbia has given some indication that it wants a 12-story building. This would tower over Riverside Drive and is obviously not acceptable, not to mention raising the question of whether Columbia is reverting to its neighborhood-shredding old persona again. Local preservationists seem to feel 8 stories would be the maximum. Protests are being made. E-mail Columbia Vice-President Emily Lloyd at el101@columbia.edu if you want to register yours. Although this building is as-of-right, that is within the limits of the zoning law, Columbia is under pressure to avoid annoying the local community because it knows it will in future need to build buildings that require zoning variances from a city government that is attentive to neighborhood outcry.
Update 11/1/00: Columbia has broken ground for this facility, which will cost $31.2 million. The new building will house a library and 13 classrooms. The 62,000 square-feet building will be 10 stories high, with 2 stories below street level, and will be 136 feet tall. Columbia has made no significant changes in response to the objections of adjacent residents who fear disruption of their light and air. It is also questionable whether a classroom facility belongs on this residential block in the first place.
Update 12/1/00: Columbia has announced a six-week pause on this project to consider other sites, mainly the "pharmacy" site at Amsterdam & 122nd St. The School of Social Work feels bitterly betrayed at this (temporary) victory for the community.
Update 3/30/01: Columbia has gone official about the new site, which will also house a new Law School dorm in a separate building.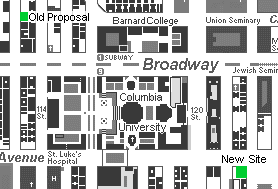 Projects List
| Home | Next