Restoration Of Morningside Park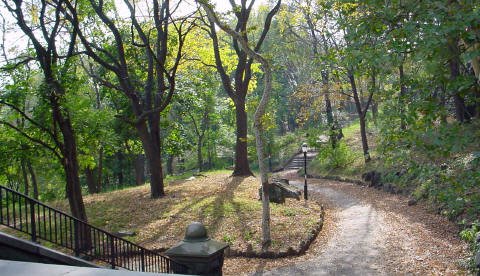 Morningside Park, long the neglected sister of Riverside Park, has recently been undergoing an exciting restoration thanks to the efforts of Friends of Morningside Park. FMP was founded in 1983 by the late Dr. Thomas Kiel when he was a Columbia undergraduate. Morningside Park is historic because it was designed by the great Frederick Law Olmstead, America's greatest park designer, and is the one park he designed that most closely resembles his original design.
In 1968, student and community protesters halted construction of a gymnasium in the park intended for use by Columbia University and the public. The excavated foundation was converted into a pond and waterfall in 1989-90. The project also included installing new play equipment, creating a picnic area, planting new trees, and rebuilding the ball fields. In 1997, the Lafayette and Washington monument and the Seligman Fountain were conserved under the City Parks Foundation Monuments Conservation Program. In 1998, the Dr. Thomas Kiel Arboretum was planted and the bluestone steps and paths at 116th Street and Morningside Avenue renovated. The new stairway provides a magnificent entrance to the eastern side of the park. Columbia University has pledged $250,000 for renovation of the site and then later announced that it would try to raise an additional $250,000 for refurbishing
the park.
FMP is urging Parks & Recreation to devote at least one additional assistant to this park to address its urgent needs, including:
1. More frequent cleaning and garbage pick-ups, especially along the upper pathways, in the north end of the park and at the southwest entrance.
2. Repairing broken light fixtures, water fountains and staircases.
3. Improving restrooms and keeping them cleaner
4. Landscape restoration of eroded areas, pruning of trees and clearing underbrush to create safer sight lines in wooded areas
5. More frequent grass-cutting
6. Total redesign and reconstruction of 118th St. playground, based on a community workshop, integrating it better into the
landscape.
7. Flower beds inside the entrance at 113th Street and near the pond.
8. A knock-down stage for concerts, storytellers, community theater, etc.
9. Improved seating areas around the playground and ball fields.
10. Food vendors near the picnic area and on the roof of the park building (at sidewalk level) will encourage more people and families to use the park. The rooftop vendor should provide tables and colorful umbrellas to create a sidewalk attraction.
11. Enhance and possibly expand the picnic area by replacing turf with wood chips.
12. Enhance the toddler playground at 113th Street with more appealing, but inexpensive features such as water hoses, tire swings on trees, balls, jump ropes and games. In the long run, both playgrounds at the southern end should be consolidated, possibly located near the 113th Street entrance.
13. Create community-maintained ornamental plantings across the path from the baseball fields, as appropriate to that area of the park (which should be the subject of a larger discussion with Parks & Recreation). This would add interest for children and adults alike.
14. Restore the pond and include plant materials that attract bird life, butterflies, dragonflies, etc. and make this a central element for children's programs.
15. Remove fences, wherever possible, that surround every court and play area.
16. Decorate the entire playground area with accent plantings and public art that is user-friendly and interactive.
17. Renovate and enlarge the recreation center and make it the site of a wider variety of drop-in activities, and community meetings.
Improve the recreation center with paint and greenery and make it clear that residents can use it for parties, meetings, etc.
18. Create community-maintained ornamental plantings at 123rd Street on the lawn area under the hill.
19. Develop a new picnic or barbecue area on the grass adjacent to the handball courts, to address problems that currently arise because this area is already used for barbecuing. Improvements should include proper ash cans and signs at the base of all trees to discourage dumping ashes.
20. A small weekend farmer's market inside the park or along the perimeter
21. A park ranger program at Morningside Park would enhance the perception of safety, help the creation of environmental programs and lead the upgrade of the pond area.
22. A dog run, which should be attractive and managed by a group of dog-owners who pressure others to follow off-leash rules. [A major issue raised in the surveys was off-leash dogs and dog litter; on the other hand, dog-owners expressed a need for a place to let their dogs run].
23. Two or three additional picnic tables should be installed in small clearings along the path between the north and south activity centers for groups wishing a quieter setting.
24. Staircase activity centers. For example, chess/checkers tables could be built into the steps, especially the lower stairs that look out over the pond.
25. New programs for adults, such as early morning exercise classes, and rock climbing (done with a private operator).
26. New children's programs, in partnership with local residents and schools, local artists, music academies, etc.
27. Family programs, including seasonal events, basketball tournaments, and concerts.